This page details communications from the Parish Council, plus meeting dates, agendas and minutes together with annual financial data. It also contains various policies and procedures relating to how the Council operates.
Parish Council elections 2021
Elections to the Parish Council will take place on 06 May 2021, as part of the broader local council elections. For further information please contact the Parish Clerk at patneyparishclerk@outlook.com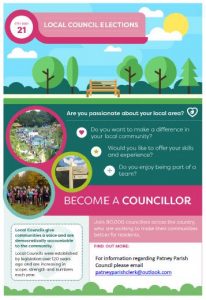 Meeting Dates (Village residents and other members of the public are welcome at all meetings unless otherwise stated)
Parish Council – 13 May 2021
Village Annual 2021 – 13 May 2021
Meeting Agendas
PPC and Village Annual Meeting agendas 130521 to be published
Meeting Minutes
Financial Information for year to 31st July 2020
AGAR signed published documents 220720
Policies and Procedures
PPC Financial Regulations – Dec 2019
All the following policies and procedures were reviewed by the Parish Council at its meeting on 10 December 2019 – no changes were made.
PPC Standing Orders – Dec 2018
PPC Code of Conduct – Sept 2018
PPC Investment policy – Dec 2018
PPC Social Media Policy – Dec 2018
PPC Risk Assessment – Dec 2018
PPC General Data Protection Regulations Privacy Policy – May 2018
Councillors Register of Interests
Please follow the link to the Wiltshire Council website